Over 30 courses created to help small business owners
achieve success from their online business.
Develop a clear website plan reflecting the value you offer. Our questions guide you to save time and money in the build phase.
Learn how to test your environment to ensure that visitors and search engines are happy.
Setup your ad account, create your first ad and learn how to test a budget to ensure results
Very often someone will say "I need a website" but with no real understanding why.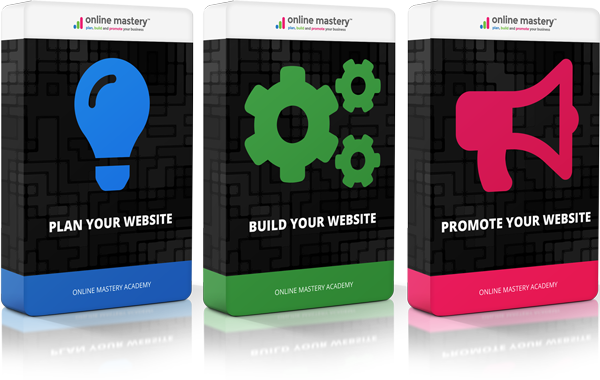 There is a real challenge with business owners who approach designers, developers and marketing experts without a plan, specifically when the right questions are not asked.

It can lead to a loss of time, energy and money.

The outcome of this academy is to give you everything you need to prepare yourself for those conversations, so that you have the clarity in what you are planning and the confidence in your ability to build and promote it.
Get Started in
3 Simple Steps
Create an account to get instant access to all the online courses.
Decide which area of your business you need to work on.
Follow the step by step guides and you WILL be successful.
Get instant access to all 30+ online courses.
Academy+ members will also get access to additional material not available elsewhere.
Hear what others have to say
Steve has a way of translating something that is technical, frustrating or completely overwhelming into something easy and doable. Now I can focus on my passion.
Christal Fuentes – Founder of The Ladies Coach
I paid an expert $14,000 for a year of mentoring without getting the strategy that led to real breakthroughs. I was amazed that Steve gave me clarity in just a few hours.
Allison Rapp – Get the practice you want
What's
included in
THE ACADEMY
Access to ALL of the
online courses.
Full access to over 30+ courses that will take you through every step of planning, building and promoting your website.

The online workbook for Steve Woody's International Bestselling book is included as well as courses on building landing pages, setting up your CRM and getting started with Facebook Ads.

There is a mix of theory, psychology as well as actionable guides for you to follow so you have everything you need to be successful online.
What's
included in
ACADEMY+
Access to ALL of the
online courses and much
more.
As well as access to all the Online Courses you will also get unlimited access to our template library which consists of hundreds of landing pages, opt in pages, page sections and elements which you can install and customise with a few simple clicks.

We wanted to give you the very best site without any of the hard work that goes with finding a designer or developer to make it happen.

Because we really want you to succeed and we know the difference a little interaction can make, we are adding access to our private Mastermind group where you can talk to other business owners who are also in Academy+

You will get special offers on live events and also a link to join a once a week live call with Steve Woody.

If that wasn't enough you will also get exclusive access to Steve Woody's signature course the Online Business Bootcamp. A 6 step program designed to give you everything you need to get started in business.
This includes all the online courses which are part of Academy. There will also be Academy Plus Content which will include previous group recordings and live event recordings. Currently there are over 30 courses available teaching you everything you need to know to Plan, Build and Promote your website.
We have been busy the last few years building out a library of assets. From complete pages to sections and elements. You will have access to it all. Just chose what you like, download it with one simple click and activate it on your site. It takes minutes to have amazing professional designs live.
Once a week there will be a call that all Academy Plus members are invited to. Can't make it – Don't worry. You can always watch the previous recordings at a time that works for you.
This 6 Week course is the backbone to anyone who is starting out online or looking to revisit their foundations. It was sold previously for £1997 and is now exclusively available only to members of Academy Plus.
You can learn more about the bootcamp
here
.
Premium
WordPress
Plugins
At Online Mastery we have partnered with many premium WordPress plugins. During your membership with us you can enjoy the top tier licences for:
That's OVER $1,600+ worth of discounts just for being part of our family.
Get instant access to all 30+ online courses.
Academy+ members will also get access to additional material not available elsewhere.
Take your business
to new heights.
This program has felt almost liberatingly straight forward as it demystifies the subject of digitally based business. Steve is a no BS guy who genuinely cares about getting results for his clients.
Not only is my website now live but I'm also getting cold traffic from Facebook Ads. Our first test campaign got an 8.5% click through and I can see everything they are doing, even when they move their mouse on the screen.
Tracey Corlett – Wonder Women
Essential preparation for startup businesses and website refreshes.
Develop a clear website plan reflecting the value you offer. Our questions guide you to save time and money in the build phase.
Create a profile of who your business serves, identify where you can excel in helping them and which customer types could drain your skills.
Understand why wireframes speed up website development and learn how to mockup your web pages before building them.
Plan your customer's journey through the website with a sitemap showing the top level view of all the pages.
System, security and build requirements to develop your website.
Setup a professional email address, enabling you to organise your inbox and communicate better.
Everything you need to know to get the best out of the Elementor Page Builder
Customer relationship management
This course will teach you how to create and setup the brains of your business and link it to your website
Website tips and actions to help you filter messages to avoid spam – saving you time.
Registering Your Domain Name
How to choose and setup your domain names, to ensure you own your online brand identity.
How to build a compelling homepage which will convert visitors into customers.
Get the best WordPress hosting for security and performance as you grow.
Content Delivery Networks (CDN)
Learn how to prevent downtime and improve performance by using a content delivery network.
Setup your website encryption SSL certificates to keep your site secure and reassure online browsers.
Begin sharing helpful content with your customers, learning how relevant news articles will attract leads.
Get our recommended WordPress content management system (CMS) setup for your custom domain.
Understand the importance of responsive design for mobile users and how to do this on your site.
Develop highly engaging pages to attract and convert your ideal audience with a specific call to action.
How to select engaging images and optimise them to retain your website speed.
Get started selling online with eCommerce and payment tools to help you grow sales.
Security is often overlooked until it's too late. This course will cover everything you should do to keep your website and data secure.
People expect website to load quickly and so does Google. This course will help you identify problems and ensure your site is fast.
Develop interactive course materials, sharing them online for your customers to buy instantly.
How to create the legal pages, privacy policy and information about cookies for your website.
Launch a members-only area on your website, to fulfil services and support your customers.
Spread the word and measure tangible results from your website.
Help more visitors find your website with organic search engine optimisation (SEO).
You can only take action on the data you have, otherwise you are relying on luck. This is why we track our visitors so we can create a better user experience for them.
This course will teach you how to test variations to ensure the best conversions using Google Optimize and Zoho Page Sense
Learn how to build and nurture your list